It is quite possible I sincerely hate myself… and I mean that in the most loving way. I've just finished a first book in a series and I'm hooked. Like seriously hooked. I immediately bought the other books that are published. Oops I did it again… I think I'm in love. Ugh… I've forgotten how addictive fantasy books can be.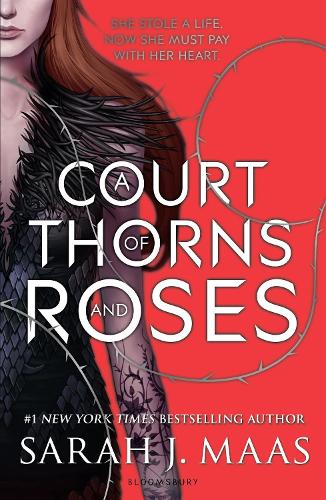 So… what happened is I finished A Court of Thornes and Roses by Sarah J. Maas. Many have warned me this would happen. And yet, I stupidly believed otherwise.
And here we are. I might've found my new favourite book series. And I love it. I love that feeling you get when you can anticipate how impactful a book will be. That is such a magical feeling.
A Court of Thorns and Roses by Sarah J. Maas is the first book the series. I suspect there is no need to summarize the plot since I am like always, late to the party. Fashionably late, in my opinion, because I won't have to wait to read the sequel.
Okay, let's get to business. The protagonist, Feyre, is iconic. I love her character even though she seemed a bit flat sometimes. I hope that will be improved in the next book. Then we have Tamlin… he is so awkward, but very sweet. However, I must admit that I found him a bit boring. We didn't have a lot of dialogue with him and most of the time he was very passive or not present at all.
"You look . . . better than before."
Was that a compliment? I could have sworn Lucien gave Tamlin an encouraging nod.
"And you hair is . . . clean."
And then… Lucien… oh sweet lord. I adore Lucien. Such charisma, such passion. He is amazing. I really hope he'll get a happy ending. I can't get over how funny and entertaining he is. And like Tamlin said himself, Lucien really carried most of the conversations. Somehow I think Feyre and Lucien would have been such a power couple, but on the other hand, their friendship is much more valuable.
"So keep your head down, and none of them will bother you. Though Lucien—he could do with someone snapping at him, if you've the courage for it."
Next on the menu in the tastiest meal in this book, Rhysand. And I'm really hungry. This Fae Lord can enslave me any day… I'm open to every type of bargain. I think I'll leave it at that. I suspect there is much more Rhysand coming in the next book… (wink!)
"Rhysand stared at me for long enough that I faced him.
"Be glad of your human heart, Feyre. Pity those who don't feel anything at all."
Amarantha was a bit underwhelming. She took herself so seriously… and I can't help but wonder if that's all. She is described as this powerful, everlasting creature, a never defeated warlord… and yet, it took so little to end her? Suspicious.
I liked the world building, but I think it needs a lot of expanding. In a way I think there wasn't a lot of it, but at least it wasn't info-dumpy.
I am so ready to dive into A Court of Mist and Fury! I will be coming back with my thoughts on that one.
To be continued…
Are you enjoying my work? Consider supporting me by buying me a coffee!